VLMS Express: The Leanest, Smartest Path to Digitizing CSV
In this webinar, see how to digitize and automate your computer systems validation (CSV) efforts quickly, without the overhead and complexity of an "enterprise" platform. Get a demo of VLMS Express, THE leanest application on the market for converting manual, paper-based processes into fully digital ones – in weeks, not months.
Presented by:
Emmanuel Cansino
Senior Director Industry Solutions
Watch a Product Tour of VLMS Express
Watch an in-depth product demonstration that walks through authoring, traceability matrices, execution, and much more.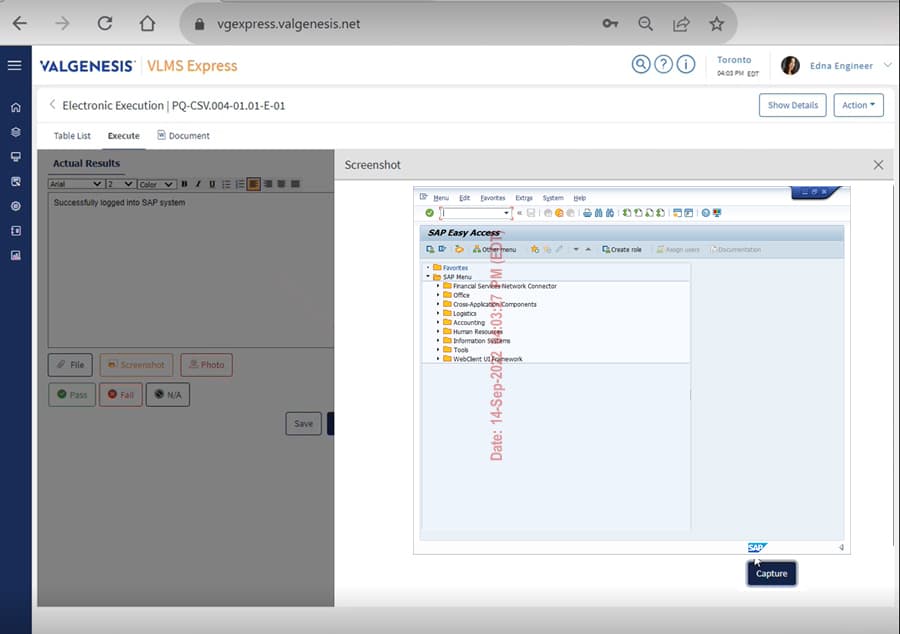 Perfected Execution
Capture evidence with a single click, then easily assemble all data and route for approval with electronic signatures. With timestamps applied at every step, follow ALCOA+ principles while generating a detailed time-motion study to show bottlenecks.
Stress-Free Authoring
Remove validation anxiety by establishing appropriate risk-based rigor and quality, not quantity.
Structured standardization accelerates authoring, and most importantly, establishes critical thinking upfront to ensure the correct amount of validation.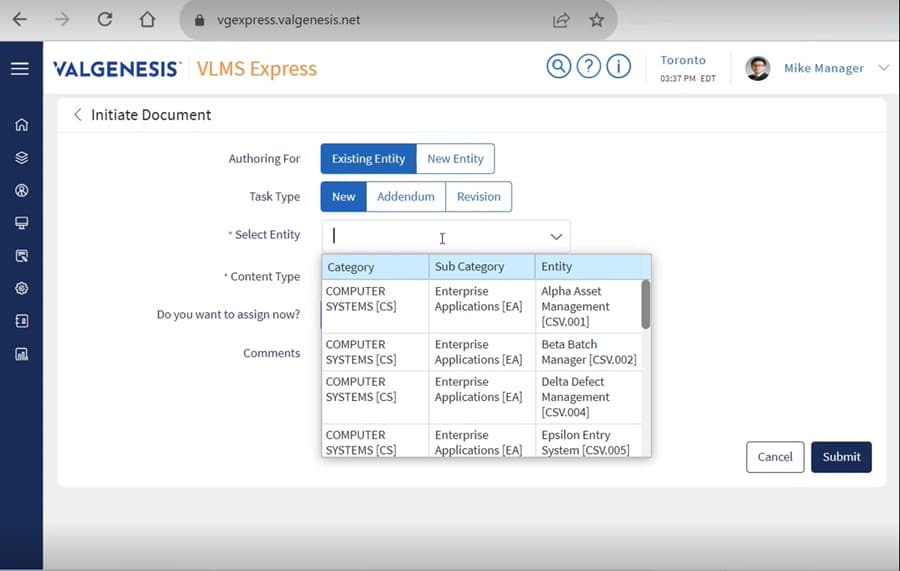 Dynamic Trace Matrices
Traceability matrices in VLMS Express are not static artifacts. They are living documents that link what you say and what you did to demonstrate correct testing, all in real time. No more frustrating Excel marathons at the end of the project.
Features
Features that matter for validation excellence
Integrated screen capture of windows or entire screens (with automatic timestamps) avoids tiresome switching between applications
Template and document binding to entities promote consistency
Automatic, dynamic traceability matrices create a living document that eliminates the need for Excel and manual tracing
Merged cell execution avoids major rework when importing your existing templates and provides unparalleled flexibility in new template creation
Ad hoc reporting lets you easily select which fields you want to see in a report
Single repository for all documents, both completed and pending approval, for virtual and asynchronous collaboration
Integrated electronic signature satisfies 21 CFR Part 11 and Annex 11 requirements (without repeated sign-in)
Go live in fewer than four weeks
How fast can you get up and running? Faster than you think. VLMS Express has a deployment timeline of less than one month, and that includes training and onboarding.
Your Data, Your Location
VLMS Express is a cloud application. Instances can be established in US, EU, or India locations to comply with your data sovereignty protocols.
Fully Validated, Of Course
All implementations come with one development environment and one production environment with a certificate of validation. All updates are similarly validated with appropriate certification.
Who uses VLMS Express?
VLMS Express is designed for small and mid-sized organizations that need fast, simple, and fully digital validation tools with light deployment.
Day-one compliance equals day-one advantage. Ensure your equipment, instruments, facilities, and computer software are validated and compliant while following ALCOA+ data integrity principles.
Eliminate the manufacturing frustrations that impact time-to-patient. Class I, II, and III products require secure, durable validation technology that strengthens compliance, control, and profitability.
Validate software with a modern approach that simplifies inspections, audits, and due diligence. Even better: provide customers with elegant, digital validation packages of your own products.
Maximize your commissioning and qualification budget. Activate VLMS Express for your project, then close it upon completion, controlling your expenses and retaining all project data.
Validation and engineering consultants: combine your process expertise with market-leading VLMS technology for maximized client value and extended revenue opportunities.
Avoid discarded batches and ensure consistently high product quality and safety with pharmaceutical-grade validation software that modernizes your operations.
Efficiency Gains
ValGenesis VLMS customers experience significant efficiency gains when transforming away from paper, Excel, and legacy systems into a purpose-built solution. This calculator is based on real-world ROI studies we've conducted with our customers. The ROI of digitizing and transforming validation is experienced as both time and cost savings.
The "cost, time, and efficiency saving" calculations provided herein are for demonstration purposes only and do not represent actual or anticipated results of any entity. These calculations represent current estimates based on a limited and controlled data set and average savings multiples. They do not represent guaranteed cost savings and do not bind ValGenesis to any results. To assess potential savings specific to your company, schedule a free ROI assessment with one of our validation experts. They will require further data from you such as the number of employees who may use the system and the validation activities that are most time-consuming for your organization.
Get started
ValGenesis is the industry-standard provider of digital validation software for life sciences. And ValGenesis VLMS Professional is the fastest and most reliable way to digitize your validation lifecycle.
Fill out the form to get a personal walk-through of the product and get all your questions answered.
Request a demo of ValGenesis VLMS Express