ValGenesis VLMS Express
Simplified, cloud-based digital validation. Any company, any project.
The Fastest Path to Paperless Validation
Finally: enterprise-class digital validation for companies of any size – from startups to established mid-size players – or for any capital project. Delivered as a cloud-based application, VLMS Express deploys in less than a month and scales whenever you're ready.
Perfected Execution
Lightweight deployment, heavyweight performance
Accelerate training and adoption with an easy-to-use interface
Capture objective evidence with a single click
Execute electronically with integrated electronic signatures compliant with CFR 21 Part 11 and Annex 11
Follow ALCOA+ principles with automatic timestamps applied at every step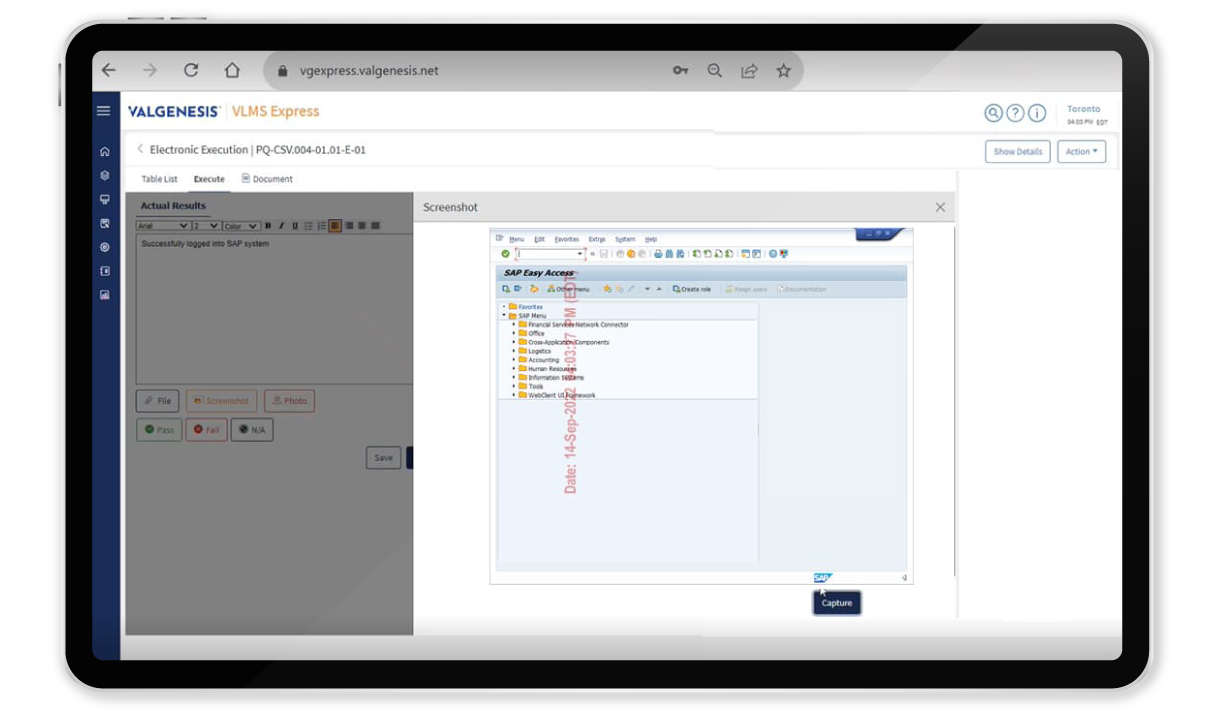 Stress-Free Authoring
Establish appropriate rigor, control, and quality
Remove validation anxiety by establishing appropriate risk-based rigor and quality, not quantity
Apply structured standardization, ensuring the proper document is selected and the correct amount of validation is performed
Achieve efficiency and collaborate electronically with simultaneous real-time review
Automate workflows and routing with task notifications so everyone stays on schedule
Promote consistency by binding templates and documents to entities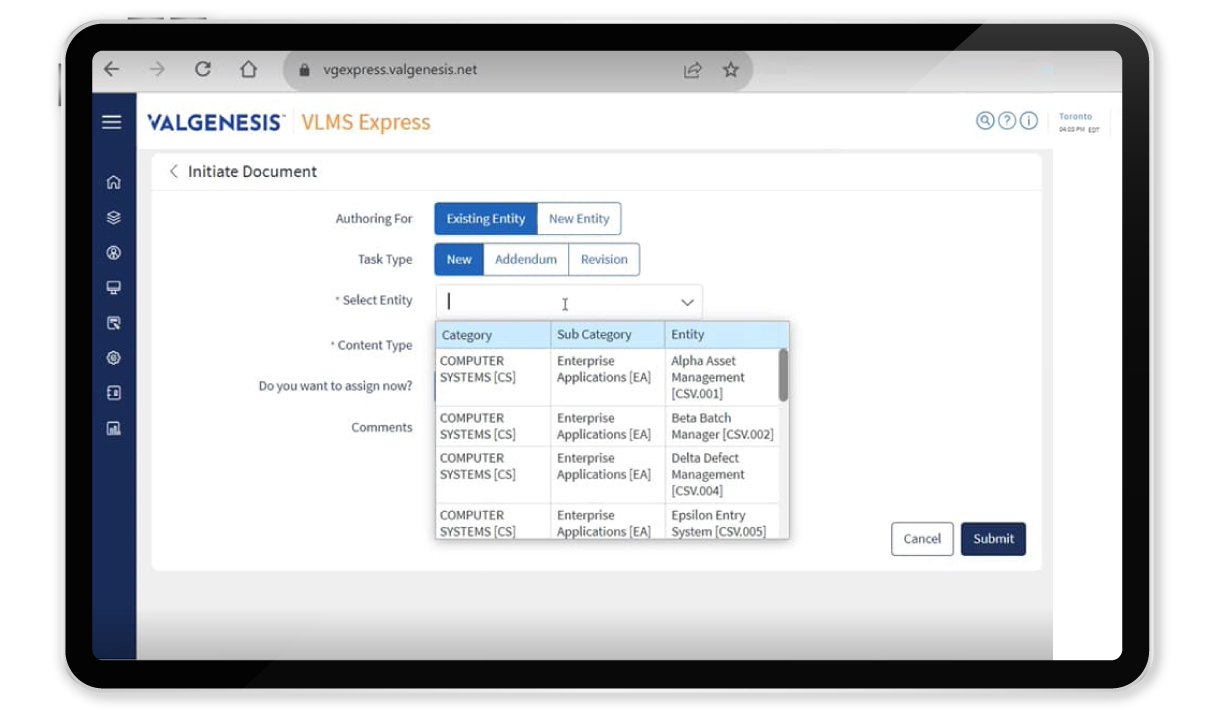 Dynamic Trace Matrices
Eliminate the frustration and effort of manual trace matrix generation
Free your team from the tedium of manual tracing and endlessly updating Excel spreadsheets
Systematically create traceability matrices that link all requirements identified during authoring
View current execution status in real-time
Analyze the impacts of failures on upstream and downstream requirements within the protocol
Demonstrate to auditors your state of control and correct testing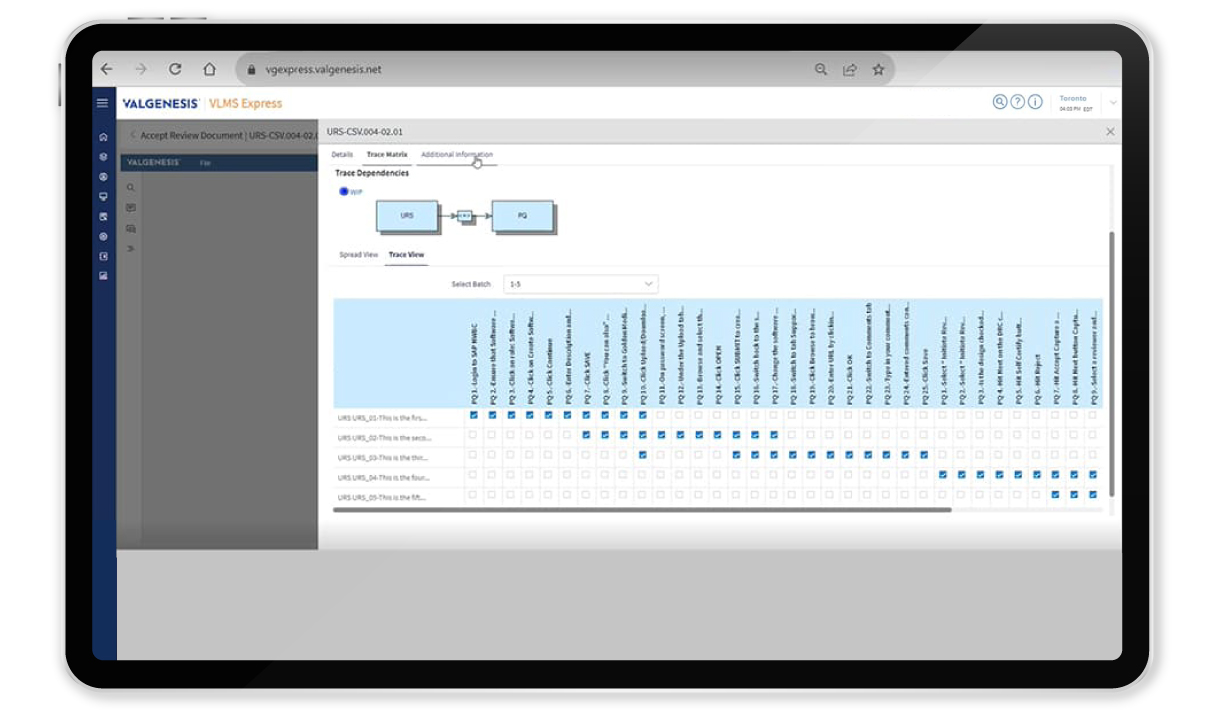 Explore Solutions for VLMS Express
---
Learn More From Our Experts
Blog Post
Quality Risk Management
6 Ways to Make Your Risk Management More Effective
---
Industry Insight
Risk and Data as Knowledge Enablers: A Lifecycle Approach
---
Webinar
Establishment of a Digital QRM Program Using ValGenesis iRisk
Talk to us to see how ValGenesis can support your digital transformation.