ValGenesis Process Manager
Ensure regulatory compliance and product safety with our purpose-built, risk-based cleaning validation software.
Our application scientifically validates and electronically documents your cleaning process effectively and consistently and reliably removes residues below established acceptance criteria throughout the product lifecycle.
Streamline Compliance and Ensure Product Safety
ValGenesis Process Manager gurantees regulatory compliance and product safety through scientific validation and electronic documentation. Discover the application of the FDA 2011 process lifecycle approach for design, qualification, and monitoring while being guided through the regulatory considerations and best practices for evaluating process or material changes.
Critical Efficiencies Gained from Digitizing the Cleaning Validation Lifecycle
Globally Harmonized Validation Program
Adhere to FDA 2011 process lifecycle approach for design, qualification, and continued monitoring with a comprehensive end-to-end digital platform.
Automated Documentation System
Minimize errors with an automated documentation system equipped with configurable templates for cleaning validation master plans, SOPs, cleaning tests, validation protocols, and more.
Streamlined Change Assessment
Leverage comprehensive frameworks that guide you through regulatory considerations and best practices for evaluating the impact of process or material changes.
Optimized Equipment Design Process
Implement a risk-based approach for contact parts, using 2D or 3D imaging to identify sampling locations, then associate cleaning tests with equipment design.
Establish a Plan
Systematically incorporate all variables into your overall validation master plan
Include equipment and product vendor data in your models
Get clear and precise residual limits based on a variety of configured criteria from integrated analytical methods
Auto-calculate contact surface areas using shared surface area (SSA), total equipment surface contact area (TESCA), or equipment-specific modes
Confidently determine analytically supported acceptance criteria
Establish equipment and product groups for worst-case analysis
Assess and Mitigate Risk
Streamline and optimize your cleaning process with an advanced risk management system
Utilize prebuilt or custom risk models to determine appropriate risk levels, define failure modes, and create effective mitigation plans at every step of the process (all based on ICH Q9 principles for risk management)
Reduce cross-contamination and ensure product safety with equipment design that incorporates risk assessment at each contact part level
Determine sampling locations from risk assessments
Systematically define failure modes and create mitigation plans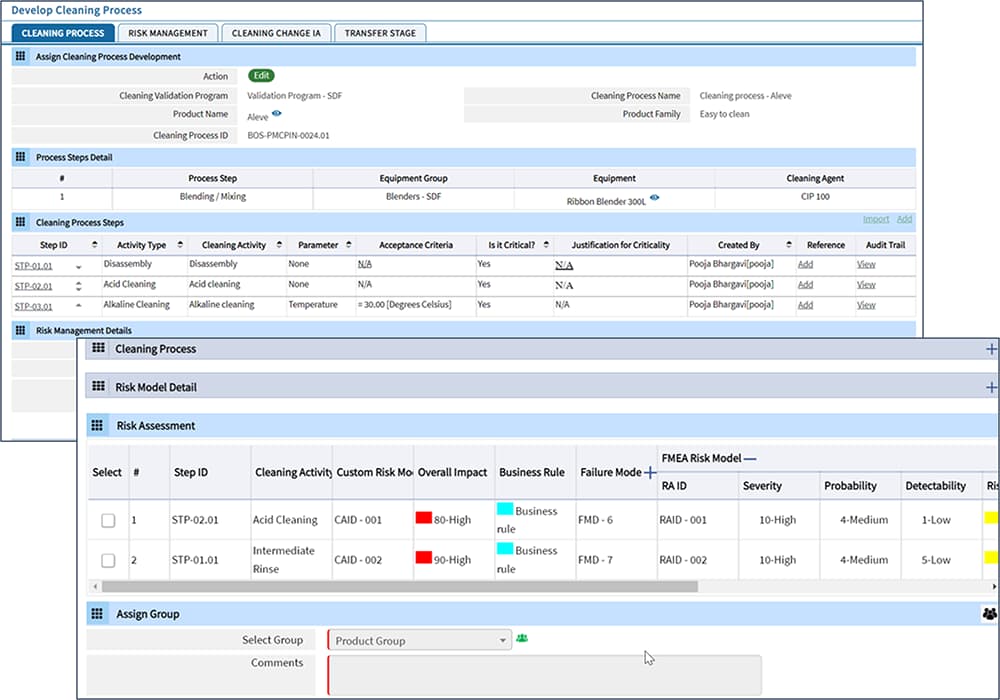 Produce Scientifically Sound Results
Follow your scientific plan with frameworks, documents, and workflows
Configure the unit of measure and critical cleaning process parameters
Set acceptance criteria by comparing LOD and LOQ values for precise residual limits
Perform residual limit calculations based on various criteria, including 10 PPM, HBEL, dose-based, toxicity-based, and more
Employ our intelligent transfer stage gatekeeper to ensure each stage's tasks are completed

Monitor and Improve
Gain unparalleled system awareness
Create dashboards for instant access to analytics at the global, site, group, product, or equipment level
Schedule periodic reviews to monitor and maintain the health of your cleaning program
Establish alert and action limits to notify the team of any out-of-specification (OOS) deviations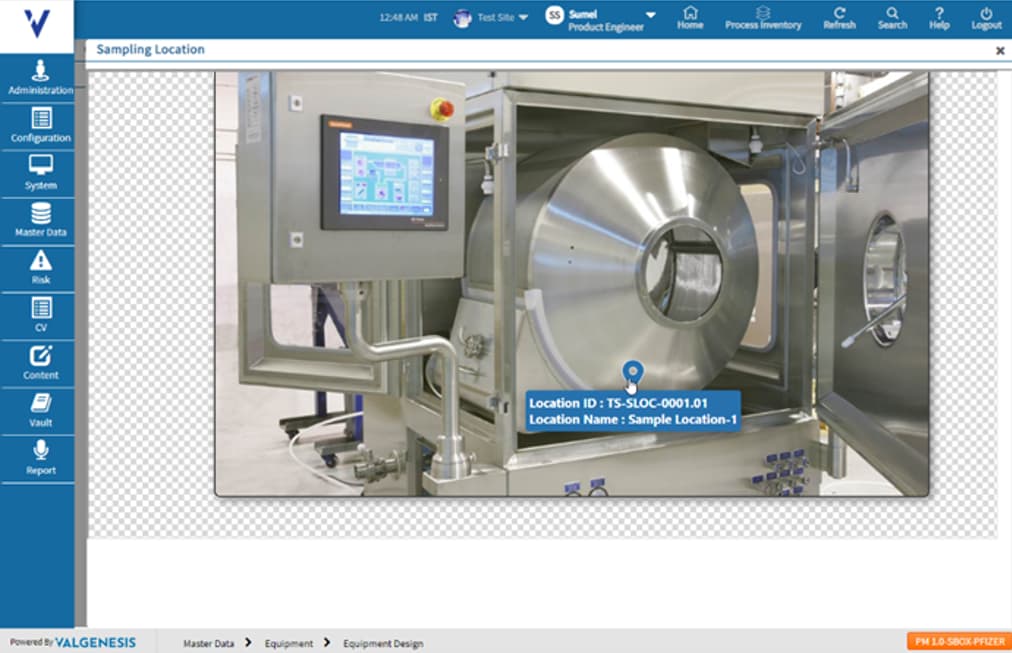 ValGenesis Process Manager Drives Efficiency Across the Lifecycle
System Controls and Management
Configuration Manager
Master Data Definition
System Administration
Stage 1
Cleaning Process Design
Validation Master Plan
Product Assessments
Cleaning Agent
Equipment Design
Risk Assessment
Cleaning Test
Analytical Method
Stage 2
Cleaning Process Performance Qualification
Worst Case Product and Equipment Assessment
Surface Area Calculations
Residual Limit Calculations
Cleaning Process Step Creation
Risk Management
Validation Protocol Creation (and Execution)
Summary Report
Approved Cleaning SOP
Stage 3
Continuous Cleaning Process Monitoring
Change Assessment
Dashboards
Standard and Ad Hoc Reports
Process Inventory
Capabilities Part of the Entire Lifecycle
Study Methods
Content Management
Task Dependencies
Explore Solutions for Process Manager
---
Learn More From Our Experts
Blog Post
Quality Risk Management
6 Ways to Make Your Risk Management More Effective
---
Industry Insight
Risk and Data as Knowledge Enablers: A Lifecycle Approach
---
Webinar
Establishment of a Digital QRM Program Using ValGenesis iRisk
See how ValGenesis can support your digital transformation.