Access the Power of the ValGenesis VLMS with our Mobile App for Validation
Use your mobile device to remotely access important documents, complete pending tasks and collect critical test execution data — online or offline.
Imagine accessing the critical validation information you need from anywhere using a mobile device, even if you're offline in a protected area.
The ValGenesis mobile app empowers you to execute test cases on the production floor without worrying about network connectivity or carrying a paper-based protocol or bulky laptop.
The application is especially useful in pharmaceutical manufacturing cleanrooms where network access is unavailable. Upon exiting the cleanroom, simply connect to the internet or online network, and the ValGenesis mobile app will automatically synchronize all activities performed offline with the ValGenesis VLMS application. It's that easy. (And since paper is a host for contaminants, and tablets are much easier to clean than laptops, it's safer and more sanitary.)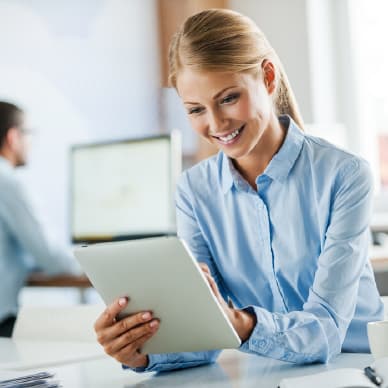 Features and Benefits of Mobile Validation
You do not have to be at your desk or even in the office to leverage the benefits of our robust digital validation lifecycle management system. You can securely access ValGenesis in the lab, on the manufacturing floor, at your home office — anywhere you need it. Features and benefits include:
Enhances system usability: Gain mobile access to critical ValGenesis VLMS functions, including:

Dashboard: Get the real-time validation status of any GxP asset
Advanced visualization: View validation data in charts, graphs and reports
Logbook entry capture: Scan the QR code to open equipment specific log forms to capture log data (e.g., cleaning, maintenance and more), photos and videos

Supports native device functionalities: Capture snapshots at the test step level to provide documented evidence (e.g., photo through webcam or video), then attach the evidence with a system-generated timestamp and user identification.
Works with multiple devices: Works with Apple iOS, Android and Microsoft tablets.
Saves time and resources: Keep critical processes moving when you cannot access your computer or are away from your desk. This saves time, money and personnel hours and enables validation processes to run without downtime.
Ready to join the digital validation revolution?
Gain new speed to market with mobile validation that keeps your validation processes running no matter where your staff is.
"We reduced cycle time by more than 50% and gained data integrity in our validation process."
"Validation-related observations dropped 90% after implementation."
"We can easily manage validation deliverables and change requests across global sites with full data integrity."
Fill out the form to request a demonstration of the ValGenesis VLMS.