Experience Hands-Free Validation with ValGenesis Augmented Reality Validation Software
Work hands-free while improving efficiency, data integrity, and compliance in your corporate validation process.
Augmented reality, or AR, is a software technology that overlays digital images and data onto the real world, integrating the physical environment and digital information simultaneously. Although it may seem futuristic, forward-thinking life sciences companies are already using AR in the lab and on the manufacturing floor to increase efficiency and improve product quality. The immersive technology is particularly useful for multi-site organizations with remote workers who require real-time collaboration, instant support, and multi-tasking on the production floor.
ValGenesis offers the industry's first and only augmented reality validation software for remote, hands-free validation that's fully compliant with FDA 21 CFR Part 11 and EU Annex 11 requirements. By extending the technological advancements of AR to validation, ValGenesis helps you minimize errors and become more efficient in your validation execution activities — and ultimately reduce validation cycle time.
Solve Your Biggest Validation Challenges with Augmented Reality Validation Software
Strict regulatory requirements often prevent the life sciences from leveraging emerging technologies like AR and artificial intelligence (AI) as quickly as other industries. However, stringent regulation is not the only impediment to new technology adoption. Life sciences companies are also hindered by:
Reliance on paper and manual validation: Although digital transformation has revolutionized business processes in many life sciences companies, some still rely on traditional paper-based methods. Manual validation is inefficient, expensive, and prone to human error. Paper is easy to misplace, and the time required to recreate documents can cause significant production delays. If you can't find an important document during an audit or inspection, the FDA may issue you a Form 483 or warning letter. Before you can take advantage of AR-driven hands-free validation, you must digitize your manual validation processes and procedures.
Reluctance to challenge the status quo: Why opt to maintain the status quo rather than enjoy the increased efficiencies technology provides? For many, it's the perception that the technology is too new or unproven. However, customers have been using the 100% paperless ValGenesis Validation Lifecycle Management System (VLMS) for more than 15 years, reporting a 50% or more efficiency improvement in their core validation activities. And while technologies like AR may be relatively new to the life sciences, the automotive and defense industries have used them successfully for decades.
Organizational data silos: Enterprise-wide data accessibility is critical to successful higher-end technology adoption. This presents a challenge for organizations that compartmentalize data into disconnected silos, as is often the case with companies that haven't automated validation and other quality practices. You need high-quality, standardized, easily referenceable data to leverage the advantages of augmented reality, mixed reality, artificial intelligence, and other advanced technologies.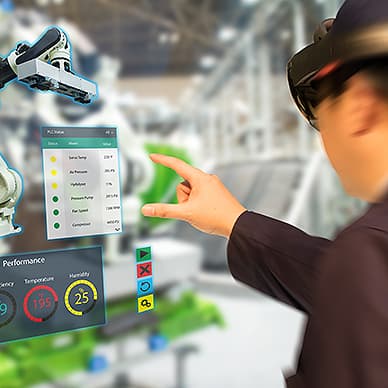 The Benefits of AR-Driven Hands-Free Validation Solutions are Limitless
Experience faster, more effortless validation execution: AR technology helps you accelerate validation execution tasks while improving quality. Validation engineers can instantly access work instructions, schematics and protocol test steps as holographic images with a voice command to a wearable AR headset (Microsoft™ HoloLens 2), then capture the actual results and objective evidence through simple dictation — no laptop, tablet, or paper required. The captured results with objective evidence, in the form of video, audio or photos, are securely recorded in real-time to the validation protocols being executed in the secured cloud.
Get real-time feedback and support through Microsoft Teams and Microsoft Remote Assist for HoloLens: Validation and quality teams can quickly pull in a remote colleague, supervisor, or subject matter expert (SME) whenever their expertise is required. This includes on-demand video calls, real-time chats, and even the ability to share images that can include annotated markups from the experts. Calls can be recorded for future reference or training. ValGenesis augmented reality AR validation software saves time and minimizes the need for onsite visits, which cuts down on travel and training costs. It also dramatically increases the efficiency and effectiveness of remote audits and inspections.
Reduce production downtime: AR technology is beneficial for cleaning, process, equipment, and instrument validation. The headset wearer can interact with the real-life piece of equipment in front of them and overlay information they need in real-time without stopping what they're doing to search for instructions. If necessary, they can share their real-time view with remote collaborators to help identify a problem or ensure they are completing tasks correctly. This ability to resolve issues on the spot dramatically reduces production downtime, saving time and money.
Ensure compliance and standardization: The application uses electronic work instructions and digital overlays of images, videos, and other relevant information to guide validation engineers through complex validation procedures and activities, ensuring compliance with regulatory requirements and enabling standardization. Employees collaborate more efficiently when they work with standardized information from the same source.
Work untethered: ValGenesis hands-free validation software allows engineers and technicians to move freely around the lab or plant floor without tripping over wires or carrying heavy laptops, tablets, or paper documents, all of which are potential sources of contamination. You can access data with simple voice commands or virtual hand gestures that allow you to move holograms in ways that feel natural and anchor digital content to objects or surfaces in the physical world.
Improve data management: Good data is a valuable asset in today's digital age. Having access to accurate, real-time data helps you make better decisions and is the basis for organizational success. With AR technology, companies experience reduced user errors as they capture real-time evidence during the validation process.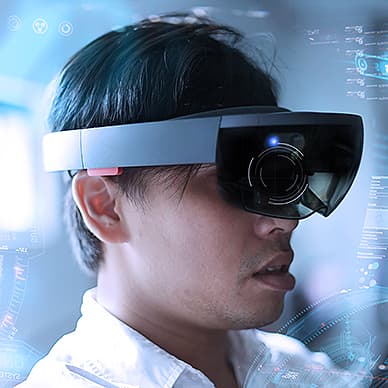 ValGenesis Augmented Reality Validation Software Makes Hands-Free Validation Possible with these Unique Features
The power of the ValGenesis VLMS coupled with the capabilities of AR empowers you to collaborate without boundaries and stay focused and engaged. HoloLens 2 AR headset features and capabilities include:
Voice command and control on-device for precise hands-free work
Two-hand fully articulating hand tracking supports a variety of virtual hand gestures and direct manipulation
First-person view allows you to share what you see with colleagues in real-time
Dial-in-fit system allows user to wear the headset over glasses; flip up the visor to change the view from augmented/mixed reality to physical reality
High-definition holograms can be pinned to objects or surfaces and respond like physical objects when you interact with them
Real-time eye tracking and enterprise-grade iris security scan (no need to type in login credentials)
HoloLens 2 is built to operate in regulated environments; designated ISO Class 5.0 and UL Class I, Division 2 certified
Ready to join the digital validation revolution?
Simplify complex validation activities, increase task efficiency, and reduce operational cost with ValGenesis' hands-free augmented reality validation application.
"We reduced cycle time more than 50% and gained data integrity in our validation process."
"Validation-related observations dropped 90% after implementation."
"We can easily manage validation deliverables and change requests across global sites with full data integrity."
Fill out the form to request a demonstration of the ValGenesis VLMS.