Today we want to take a fresh look into comparability for post-approval changes. How? We're thinking of a unique multiparametric approach. This approach is aligned with the FDA's tiered and totality-of-evidence concepts in biologic development.
These concepts are helpful to compare biosimilar and reference products. But they can go beyond that! You can use them to perform comparability assessments during the lifecycle management of a given biologic product.
Escaping Variability is Difficult
When you're in the business of producing biological medicines, you will experience some variability over consecutive batches.
For example, the glycosylation profile of a protein. It can present minor differences in its sugar chains without changing its biological activity:

But let's zoom-in on post-approval changes!
You should expect process post-approval changes as part of your product lifecycle. They happen whenever your site changes, when you scale-up operations, when you replace equipment or when you introduce new analytical methods.
All of this can impact product quality and safety. Because of that, the differences shown by the comparability assessments before and after change should be small. Especially in comparison with products made by two different processes and manufacturers.
How to manage post-approval changes
We propose that you should use a Multivariate approach. Why should you? Because you need to be able to find very small changes across multiple attributes. And then you need to translate them into an overall assessment of the product changes.
You can implement this approach by comparing analytical packages from pre- and post-change. You do this comparison by applying a comprehensive set of analytical techniques to multiple quality attributes within each package.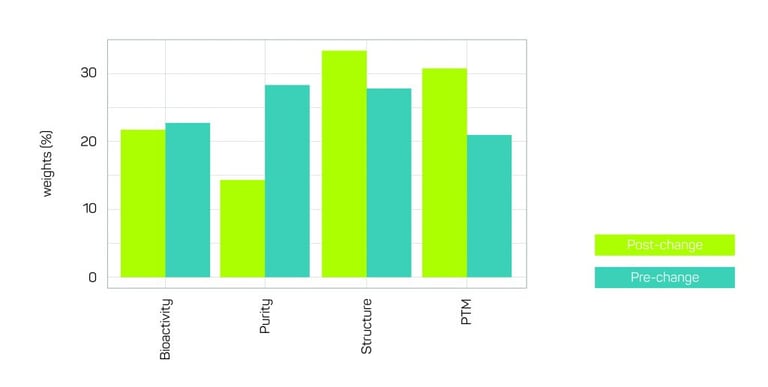 Using this approach ensures that the most relevant information on each analytical technique used is captured. All the techniques are then consolidated into a single overall analytical package evaluation. And then you can compare it!
We took a deeper look at this topic in an article that we have just published. You can obtain it from here:
Making sure your Tech Transfers occur smoothly
The best way to make sure your Tech Transfer yields the best results is to work with specialized consultants.
ValGenesis has a long and established expertise supporting world-class pharmaceutical companies with their Tech Transfers. We do this by using a Quality by Design (QbD) approach and Data-based Process Design decisions.
Take a look at our Process Scale-up Strategy and Implementation service!