In our last blog posts about Continued Process Verification (CPV) you were able to know the benefits, challenges, and even how to do a CPV Implementation.
However, there's a lot to consider when it comes to take the step into Digital Continued Process Verification. That's why it is important to know the differences between having a Manual CPV and a Digital CPV.
If you're following our journey through the world of CPV, you shouldn't miss this post!
Manual CPV vs Digital CPV at a Glance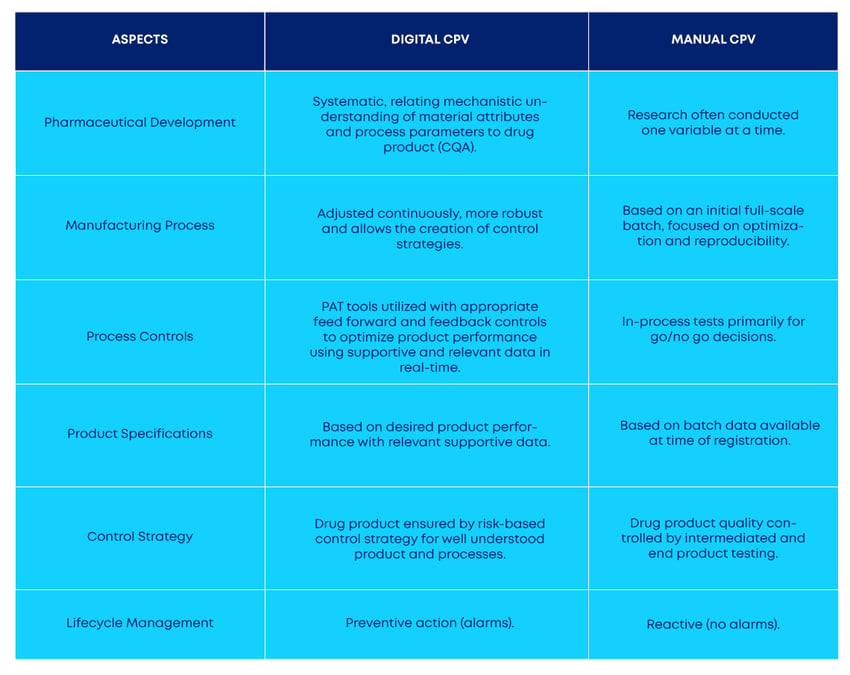 Pharmaceutical Development
The approach of a Manual CPV plan is mainly empirical, which means that it's based on observation or experience. Also, the fact of the research being conducted with just one variable at a time requires more time and, hence, more resources spent doing investigations.
Digital CPV is at a next level. It uses multivariate experiments to understand product and processes, considering the establishment of design space. And, more than that, it allows you to have data automatically reducing the subjectivity of the risk assessments.
Manufacturing Processes
When it comes to Manufacturing Process, Manual CPV is based on an initial full-scale batch. It's not adjustable within design space, and its focus is on optimization and reproducibility.
On the other hand, Digital CPV it's made continuously, and it can be adjusted within design space. Which allows you to create control strategies and add robustness to the process along the way.
Process Controls and Product Specifications
Here comes the main difference: Manual CPV is based on the batches available at a time of registration. And you'll only be able to control the quality of your drug product by intermediates and end testing.
That's not the case in the Digital CPV. It prioritizes product performance using supportive and relevant data in real-time.
So why Should you Implement a Digital CPV?
As stated, a Manual CPV plan is a time-consuming process. And one of the main reasons is because it is a reactive process. What does it mean?
Generally speaking, with a Manual CPV, you only know that there was a problem in your process after it has occurred.
That's the main reason you should opt for a Digital CPV implementation! It is automatic and predictive. Therefore, if prevents, it warns you if something goes wrong. As a result, you'll have the time to act and it's an important help for your decision-making, which improves your daily processes.
We can Support Your Digital CPV Implementation
We are sure that Digital CPV is a topic of interest to the Pharma and Biopharma Industry.
Our team will be more than happy to help you implementing a strong Digital CPV plan in your processes. Take a look at our ValGenesis service and don't hesitate to contact us.