Be Audit-Ready with Risk-based Equipment and Instrument Validation Software
Guarantee the accuracy and auditability of your equipment and instruments.
Regulatory guidelines dictate that the equipment and instruments used to manufacture regulated products, such as APIs and finished pharmaceutical drugs, must be qualified to ensure the products are made in a safe environment. Qualification, a subset of validation, is a complex process. You must prove the equipment and instruments used during manufacturing were correctly installed, work properly, and will produce the expected results consistently. Then you must document your evidence. The complexity of drug and medical device manufacturing makes this a monumental task.
Labs are filled with instruments of all types, and each piece of equipment comes with its own validation protocols. Your employees may spend hours completing hand-written reports and physically tracking logs, test results and other records from different departments. Despite these efforts, you may still be at risk during regulatory inspections and audits.
How to Meet Efficiency and Compliance in Equipment Qualification
Equipment qualification is a complex process to ensure the intent for which the equipment is being planned, installed, and qualified is satisfactorily met. Teams and functions frequently face challenges in this process that lead to loss of efficiency and compliance. This webinar shows how responsible personnel can apply the correct efforts to ensure regulator satisfaction while helping the company operationalize the full potential of all equipment.
Presented by:
Saurabh Joshi
Director - Industry Solutions
What are the Challenges of Paper-based Instrument Validation?
There are several challenges in using the traditional paper-based approach to manage the equipment and instrument validation process.
Siloed data:

Paper-based systems compartmentalize data into disconnected silos, complicating reporting and analysis. The inability to integrate data into a holistic view hinders your ability to obtain key equipment lifecycle data to make timely, objective decisions.

Inefficient workflows:

Manual systems are grossly inefficient. Employees spend too much time performing repetitive tasks like printing, scanning and routing documents. Lost documentation is common and searching for misplaced documents during audits and inspections can be stressful.

Lack of audit trails:

During the equipment/instrument validation lifecycle, there is a need to assess the impacts of changes to the validated state. When data elements are managed and tracked in separate documents, spreadsheets and applications, the risk of incomplete or inaccurate data is high. With no clear validity of data elements, islands of data in different formats, and a lack of audit trails, it is challenging to assess and determine the validation status of equipment correctly.

Increased compliance risk:

Audit trails and traceability are essential tools for mitigating risk. When auditors come knocking, they expect fully traceable evidence that your qualification and validation methods meet regulatory requirements. If you cannot provide the proof, regulatory citations and fines are almost guaranteed. Lack of (or insufficient) qualification procedures and documentation are frequently cited deviations in FDA Form 483 observations and warning letters.

Lack of change control:

In manufacturing environments, changes in production and processes must be controlled to ensure a change does not negatively impact a product's quality, efficacy or safety. All changes should follow approved written standard operating procedures (SOPs). Adherence to these approved policies and procedures keeps operations in a state of control. When critical data is not readily available, it is impossible to assess the impact of changes to system specifications and compliance requirements.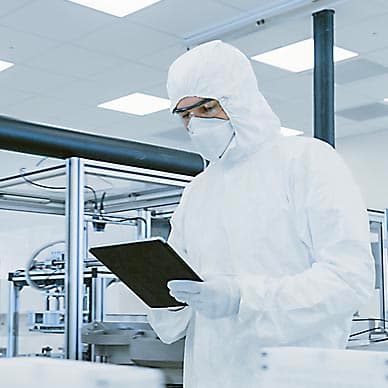 Paperless Equipment Validation Software Offers Unique Benefits
A digitized equipment and instrument validation solution is possible with the ValGenesis Validation Lifecycle Management System (VLMS), a cloud-based platform designed to digitize and simplify all areas of a life sciences company's complex validation needs—including computer system validation, analytical method validation, process validation, and more. With ValGenesis helping you maintain your organization's equipment and instrument qualification and validation processes, you'll experience significant benefits:
End-to-end solution: ValGenesis enables you to fully automate the entire equipment and analytical instrument lifecycle from validation planning to decommissioning/retirement in one easy-to-use system.
Part-11 compliant features: Our equipment validation software solution provides a time-stamped audit trail, reporting, and electronic signature capabilities that fully satisfy FDA 21 CFR Part 11 requirements. If an added level of security is desired, it can also enforce signature verification. Our solution is also compliant with EU Annex 11, GAMP 5 and ASTM E2500.
Increased audit-readiness: Our VLMS is 100% paperless. Because it eliminates virtually all time-consuming, error-prone manual activities (e.g., printing, scanning and routing documents) users enjoy a high degree of data integrity. Timely collection of data means you're always ready for internal and external audits.
Reduced risk: The solution promotes a risk-based approach to equipment and instrument validation by enabling you to design workflows and decision trees that fully automate precise protocol generation.
Electronic protocol execution: This functionality allows you to execute protocols from authorized laptops or tablets with or without network/internet connections.
Deviations workflows: Execution failures can be easily managed by deviations workflows within the system.
Reduced data collection time: Our VLMS accesses parsed data and associated raw data files directly from your instruments and dynamically collects process parameters from that equipment based on the defined schedules. These innovative functions expedite data collection while ensuring a high level of data integrity.
Log data collection capabilities: Our electronic log module collects log data—including calibration logs, periodic reviews and cleaning/usage logs—during the equipment/instrument lifecycle.
100% paperless: All validation deliverables are electronically created, reviewed and approved. Eliminating paper from the validation process can increase efficiency and prevent costly regulatory delays in getting products to market.
Mobile access: With ValGenesis equipment validation software, you can access critical documents, complete pending tasks and collect vital data using your tablet or smartphone, extending the benefits of an automated system to the lab, manufacturing floor, or any part of your organization's facilities.
Many life sciences companies are beginning to realize the advantages of digitizing their equipment and instrument validation methods with ValGenesis' feature-rich solution. Features include:

• Risk-assessments powered by decision-tree logic
• Electronic execution of log records
• Equipment register management
• Deviation management
• Automatic task notification, schedules, and nudging features with email
• Electronic protocol execution
• Dynamic electronic traceability matrix generation
• Template-driven document authoring to ensure consistent, compliant documentation
• Integrated close-looped equipment and instrument lifecycle management
• 21 CFR Part 11-compliant features like time-stamped audit trails, reporting, and electronic signature capabilities
Ready to join the digital validation revolution?
Save time and money while streamlining your equipment and instrument validation processes with our paperless, risk-based solution.
"We reduced cycle time more than 50% and gained data integrity in our validation process."
"Validation-related observations dropped 90% after implementation."
"We can easily manage validation deliverables and change requests across global sites with full data integrity."
Fill out the form to request a demonstration of the ValGenesis VLMS.