In this article we will discuss the ever growing importance of Quality Risk Management in the context of Lifecycle Management.
Risk and knowledge management were introduced by the ICH guidelines (ICH Q8 onwards). Since then, they became increasingly appreciated and implemented through other guidance such as the EU-GMP Guidelines.
The forthcoming ICH Q12 will provide an operational view of how risk- and knowledge management can work together over the lifecycle of a product.
The implementation of Quality Risk Management (QRM) requires several elements. They are outlined in ICH Q9 – risk identification, analysis, evaluation, and control – require tools and practices that are linked to good knowledge management.
The initial stages, dealing with risk identification and analysis, should:
effectively capture knowledge,
map processes and,
allow the definition of an ontology of objects (unit operations) with specific attributes (inputs and outputs).
That should be followed by establishing the causality between process parameters and quality attributes. And then, from that point on, developing the whole criticality analysis exercise.
When FMEA is not Enough
Completing an FMEA (Failure Mode and Effects Analysis) is in practice difficult and time-consuming to achieve if the initial 'knowledge-based' steps are skipped. Several questions need to be considered:
Where is the failure-mode root cause located?
Should we monitor cause or effect?
Will we have alternative/competing control strategies?
How effective are those?
Which one will be filed and how should it be explained to authorities?
The following figure summarizes the different tools that are available in practice for each stage, showing that some are more adequate than others for each stage. In our experience of risk-management facilitation, different tools will be required, and the use of mapping and brainstorming tools ensures team alignment, empathy across multiple functions and an effective knowledge-sharing and harvest right from the beginning, all needed for a successful QRM project.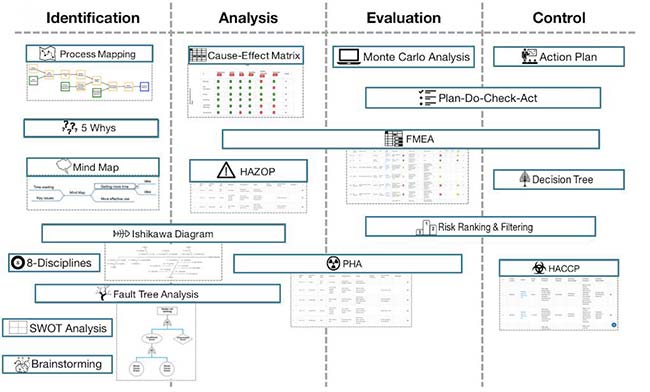 Using
Lifecycle Management (LCM)
Once end-to-end risk-assessment is completed, a lifecycle management plan should be put into place.
This implies, firstly, to identify, to understand, to quantify and to rank risks as well as proposing a control strategy.
Then, the next steps are:
Managing unacceptable risks,
Evaluating the control strategy performance,
Detecting improvement opportunities,
Managing additional risks originated from new events (e.g., post approval changes).
Such a plan will be used to aggregate all actions, findings, and experience to manage product and process knowledge over the lifecycle.
Using QRM within a LCM framework effectively ensures consistency at all levels where modern pharma operations are concerned. Both quality-culture and operational excellence are characteristics of class-A 'learning-organizations'.
At ValGenesis we use a systematic approach designed to simplify the QRM process, automate and optimize, and then digitally integrate your process. Discover more about our solutions on the topic.