In the fast-paced world of pharmaceuticals, regulatory compliance and maintaining top-notch quality standards are vital. However, the conventional computer system validation (CSV) approach is becoming outdated and cumbersome, unable to keep up with the industry's evolving demands.
To address these challenges, the shift towards computer software assurance (CSA) is gaining momentum. This blog post explores the pressing need for CSA, recent regulatory developments, challenges faced during implementation, and a roadmap to facilitate a successful transition.
Regulatory Support for CSA
The U.S. Food & Drug Administration (FDA) recognized the limitations of CSV and introduced its Draft Guidance for Industry and FDA Staff on Computer Software Assurance for Production and Quality System Software in September 2022.
CSA is defined as a "risk-based approach for establishing and maintaining confidence that software is fit for its intended use." The guidance focuses on risk-based assurance activities, limited scripted testing, leveraging supplier assurance, and using digital tools and automation rather than excessive documentation.
In sync with the FDA guidance, the International Society for Pharmaceutical Engineering (ISPE) released its GAMP5 Second Edition in July 2022.
This updated edition adds content that addresses the rapid advancements in technology and promotes a more flexible approach to computerized systems validation activities.
Both documents focus strongly on the critical takeaways that should be part of an organization's CSV/CSA procedure such as:
Risk-based assurance activities
Critical features
Leveraging supplier assurance activities
Clarification on the types of testing
Limited scripted and unscripted testing
Using tools and automation instead of documentation
Using audit trails as testing evidence
Flexible reporting documentation
Challenges in Implementing CSA
The transition from CSV to CSA might face opposition from stakeholders who are accustomed to traditional validation methods.
Sufficient allocation of resources, including financial resources, skilled personnel, and time, is imperative. The complexity of interconnected systems in the pharmaceutical industry also makes CSA adoption challenging.
Additionally, implementing CSA requires revisiting existing validation procedures, documentation practices, and quality management systems.
The transition toward CSA may require significant effort to educate and persuade key decision-makers about the benefits and advantages of CSA to overcome these challenges.
The CSA Roadmap
To successfully adopt CSA, organizations should follow a well-defined roadmap: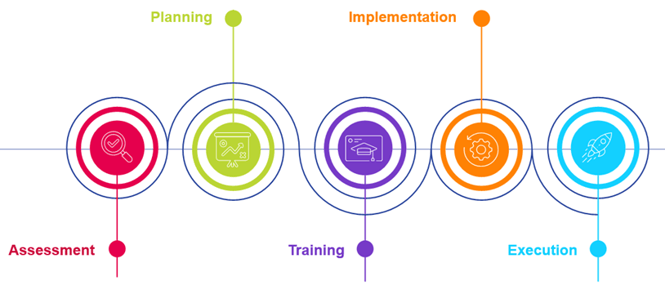 Assessment: Evaluate current practices and procedures, conduct a gap analysis between CSV and CSA, and write a CSV to CSA use case to facilitate change management.

Planning: Perform a risk-based gap analysis, identify necessary changes, and plan for resource allocation and communication strategies.

Training: Train stakeholders at different levels on the proposed CSA approach and new procedures to ensure alignment and consistency across the organization.

Implementation: Implement identified changes, review procedures and tools, update the computerized systems inventory, and assign roles and responsibilities to the CSA team.

Execution: Select one computerized system for CSA testing based on risk assessment, define testing types, conduct testing activities, and document the process.
Time To Embrace the Change
The shift from CSV to CSA is not just a trend; it is a necessary step for the pharmaceutical industry to meet evolving technology demands while maintaining regulatory compliance.
By embracing CSA and following a well-structured roadmap, organizations can experience the added value of CSA and ensure a successful transition without facing significant roadblocks and challenges.
At ValGenesis, we are at the vanguard of CSA implementation both with our team of highly experienced consulting experts and our validation lifecycle management software.
If you have any questions, don't hesitate to reach out to us.
Learn More About Successful CSA Adoption
To learn more about transitioning from CSV to CSA, read the ValGenesis Guide to Computer Software Assurance (CSA). It covers the following topics:
Critical thinking and its role in CSA
What are assurance needs in CSA?
Why CSA wants us to focus on records, not documentation